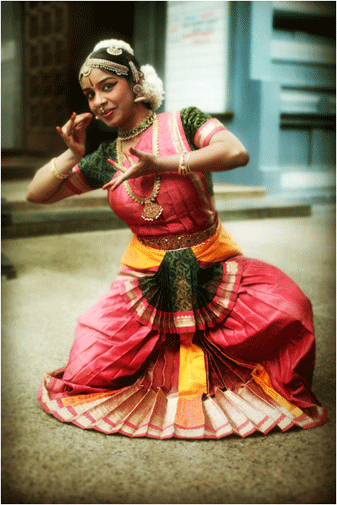 Few more Youtube links:
Performances in the past :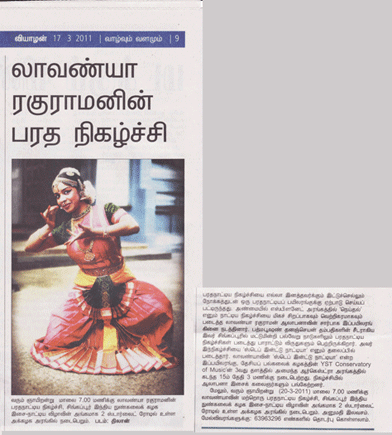 Tamil Murasu Review on YST workshop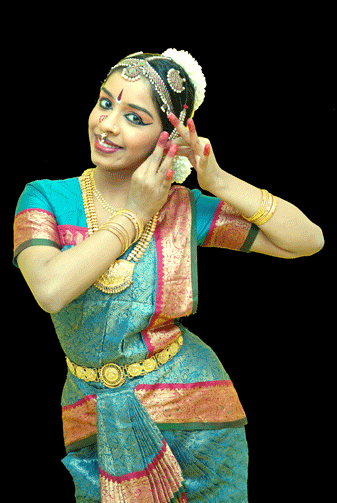 19Feb'11 8pm: Neythal- the continental shelf @ Esplanade Theatre Studio,, Singapore
15Mar'11: 3pm : Workshop on Bharatanatyam @ YST Conservatory of Music, NUS Singapore
20Mar'11 7pm: SIFAS Festival, Singapore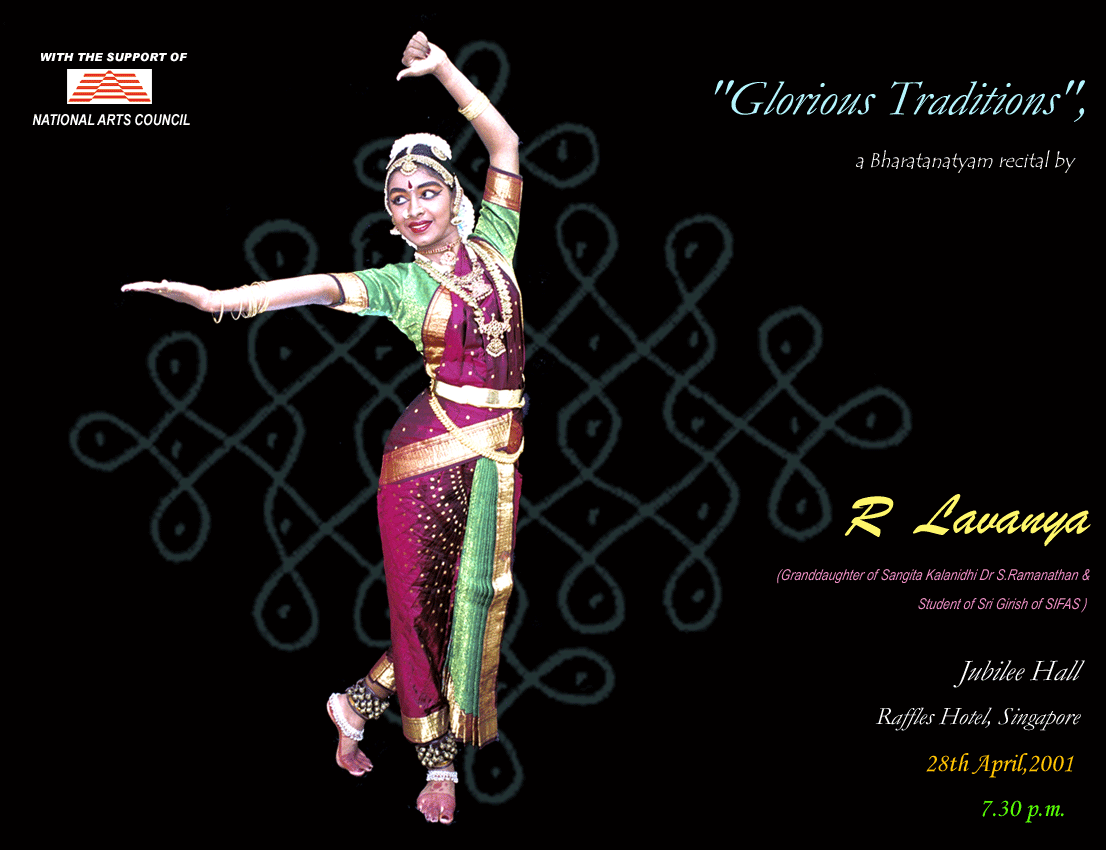 Lavanya Raghuraman has had a penchant for dance & music since early childhood. A disciple of Padma Bhushan Sri V.P.Dhananjayan and Padma Bhushan Smt Shantha Dhananjayan, Lavanya has been performing at various Sabhas since her Arangetram at Bharatiya Vidya Bhavan, Chennai in 1999. She was the first Singaporean to perform an Arangetram in Bharatiya Vidya Bhavan, Chennai with Dr Vyjayanthimala Bali as the Guest of Honour.
Since then, Lavanya has taken active part in the productions, "Sangamitra" & "Nritya Tarangini" [under Dhananjayans], "Pancha Bhoota" [under Sri C.V.Chandrasekhar], "Cosmic Dance of the One" [under Smt Lakshmi Viswanathan].
Her solo performance, "Glorious Traditions" held on 28th April 2001 at Jubilee Hall, Raffles Hotel, Singapore was a resounding success. The media reports have praised her for the quality of performance. Her choreography of the dance feature 'Abhinaya Apsaras' & 'Shakthi Koothu', following the traditional 'Margam' format were lauded as successful choreography. Lavanya has performed at leading Sabhas in Chennai. Lavanya has performed a solo recital at the Natyanjali at Chidambaram & also before the deity, Lord Nataraja, the Cosmic Dancer.
Besides dance, Lavanya is known for her versatile talents. Following the footsteps of the great musician & Scholar Sangita Kalanidhi Dr S.Ramanathan, her grandfather, Lavanya pursues Vocal music, Violin & Veena. She won the first prize for Violin - Open Category- at the National Indian Music Competition held by the National Arts Council' in Sep'04 . She holds the credit of winning prize twice - once in 1998 and later in Sep,2004. She has also had a stint with theatre when she acted as Sita in Wayang Ramayana, a play staged at the Singapore Management University.
Lavanya bagged the first prize at the Radio Corporation of Singapore's "Talentime-1998" for singing.
Lavanya was featured in a successful special violin recital for MUSIC BOX by the Esplanade-theatres on the bay and this concert received a splendid review in Straits Times too.
Lavanya was the anchor person in a TV serial at Vasantham Central featuring a cultural tour of India. Lavanya was the elected President of the Indian Cultural committee of SMU in 2008.
The VCD produced by the Ministry of Education, Singapore on Bharatanatyam features Lavanya as the key person and dancer. The VCD has been distributed to all secondary schools by MOE in Singapore since 2004.
Lavanya's "Nagareshu Kaanchi" at Sri Krishna Gana Sabha, Chennai on 3rd January,2005 at the Festival of Dance received a deserving review in the Hindu. Lavanya Raghuraman performed Bharatanatyam performances in Chennai at Karthik Fine Arts, Narada Gana Sabha, Hamsadhwani, Nadabrahmam & Bramha Gana Sabha, etc. 'The Hindu' of has carried good review on her performance more than once. She also performed a Bharatanatyam recital at SIFAS festival, Singapore twice earlier and is going to perform again on 20 March,2011.
Lavanya has attended an intensive camp of her Guru, the Dhananjayans at Yogaville, USA in Jul/Aug'06.
Lavanya performed 'Alchemy of the Opposites', a Bharatanatyam solo performance at the Esplanade Theatre Studio for the Kalaa Utsavam organised by the Esplanade-theatres on the bay on 18Nov'07. It was a full-house performance.
Lavanya was conferred the prestigious title, 'Natya Chudar' by Karthik Fine Arts, Chennai on 1st Jan'2009, where she performed again on 06 Jan'2011.
Lavanya performd a thematic Bharatanatyam solo, 'Neythal- the Continental Shelf' at Esplanade Theatre Studio on Sat, 19th February, 2011 at 8 pm which was a resounding success in terms of quality and audience-reach.
Lavanya has conducted a workshop on dance under the caption, "Step into Natya" at Yong Siew Toh Conservatory of Music, National University of Singapore on 15th March,2011. The workshop was received very well by all the participants.
Lavanya has served as a panelist on the Indian Programmes Advisory Committee, MDA.
Look forward to Lavanya's ' Retracing the Path - Margam ' on 16 March, 2015 at the University Cultural Centre Theatre, National Univrsity of Singapore.